Due to popular demand, we now offer three tiers of treasury management training for BSA Members, Associates and Non-members. The courses will be repeated throughout the year and are to be booked individually via the booking form on the relevant event page:
An introduction to treasury management (see below for details)
Treasury risk and balance sheet management
Advanced treasury risk and balance sheet management
---
The objective of this course is to introduce participants to treasury management.
It provides an overview of treasury operations within financial services, more specifically within building societies and within the regulatory environment. Following this there is an in-depth study of treasury operations, focussing on liquidity, wholesale funding, credit risk and financial risk.
Who should attend?
The course will be of interest to non-executive directors, senior management, risk officers/managers new to the building society world, those in related areas who require some background treasury knowledge, as well as those who have recently started work in the treasury function.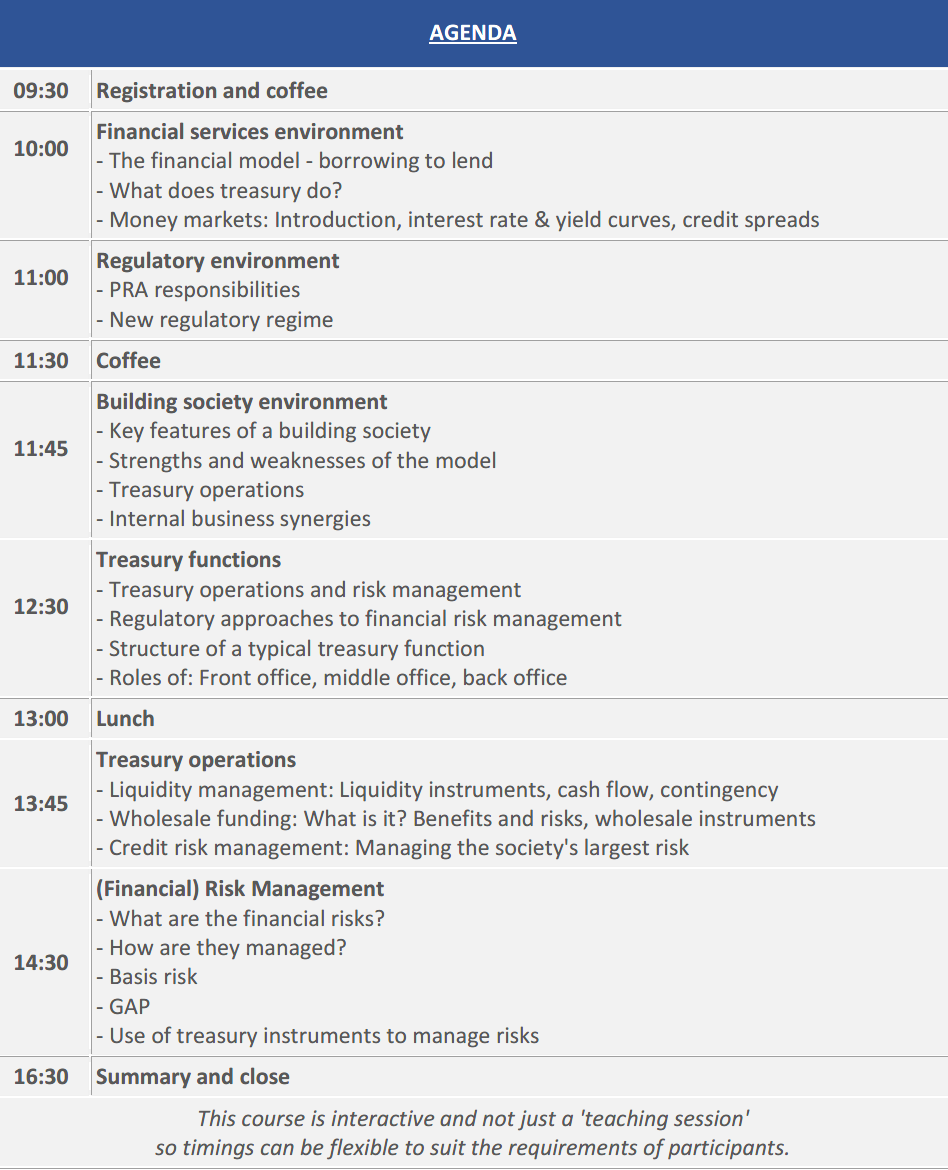 "Dean was excellent, he really knows his stuff and was an engaging host. He linked the course material to the current dire economic situation to make it very relevant and help bring the course to life"
"As a complete newbie to the industry this course gave me some high level insights that I will take into my new role"
"Great trainer, very engaging. Relating topics to current real world examples brought things to life"
"Very insightful and interesting without making it over complicated"
(Delegate feedback from our recent courses)
---

Venue:
BSA offices, 23 Kingsway, London WC2B 6UJ

Cost:
£490 per person (VAT exempt) - BSA Members & Associates
£695 per person (VAT exempt) - Non-members

Register:
This course is fully booked. We sometimes receive cancellations so please email the events team to register your interest for this date. The course is also being repeated on 16 January 2024 and further details can be found here.

Contact:
Please direct any enquiries to: events@bsa.org.uk
---
Course trainer:
Dean Carter is an experienced bank and building society balance sheet and risk professional having worked in both London and Paris. He has helped four firms gain their banking licences and specialises in strategic balance sheet management. This includes developing and integrating teams across the business, including savings, regulatory reporting and treasury teams. He has recently returned to consultancy and specialises in Treasury and balance sheet training, having left Recognise Bank where he was Group Treasurer. He also lectures for the BTRM faculty and has started writing a book on Treasury and Balance Sheet Management aimed at non-banking professionals.